Instagram Case Study
Everyone wants to know how to gain Instagram followers and build a strong Instagram presence. Below is a step by step case study on how we ranked a non-technical person's Instagram account into the top posts. Learn how to optimize your Instagram hashtags, rank among the top posts and consistently gain significant Instagram likes.
Instagram Like a Celebrity
Quick Background
For a while now, we have explored the idea of creating a case study around social media given the success we have seen in exponentially growing our client's social media presence, while driving leads and brand awareness. The only roadblock in doing so was the fact that social media strategy is a unique experience for each client. Developing a case study on how we've managed our client's social media presence was too tailored for each client and we wanted to demonstrate an in-depth, overarching strategy that anyone can apply. Therefore we have held off on this case study until now.
The perfect opportunity to implement our basic social media strategy came along New Years Eve 2016. While in Vermont, I discovered that my completely non tech savvy mother had an Instagram account. At that point, she had
No Bio, 0 Post, 0 Followers
She was simply using it to look at golden retrievers. A breed she loves and owns. My mother, @elizabethpittis, is constantly exposed to opportunities to create great Instagram post. A woman who spends 5 months in Vermont at Sugarbush and the other 7 months at the beach in New Jersey. And this dog spends every minute with her.
The NeedGrowth Team, including myself, has a great deal of experience helping clients excel at and manage their social media accounts. With no snow to go skiing, and out of sheer boredom, I decided to coach her on how to post content, built a hashtag strategy with guidelines on how to use them and started driving engagement.
Trending in 14 Days
THE RESULT
Within 14 days, her dog (Astro II or A2 for short) was trending in two medium sized Instagram hashtags (explained in Step 2: Hashtag Strategy).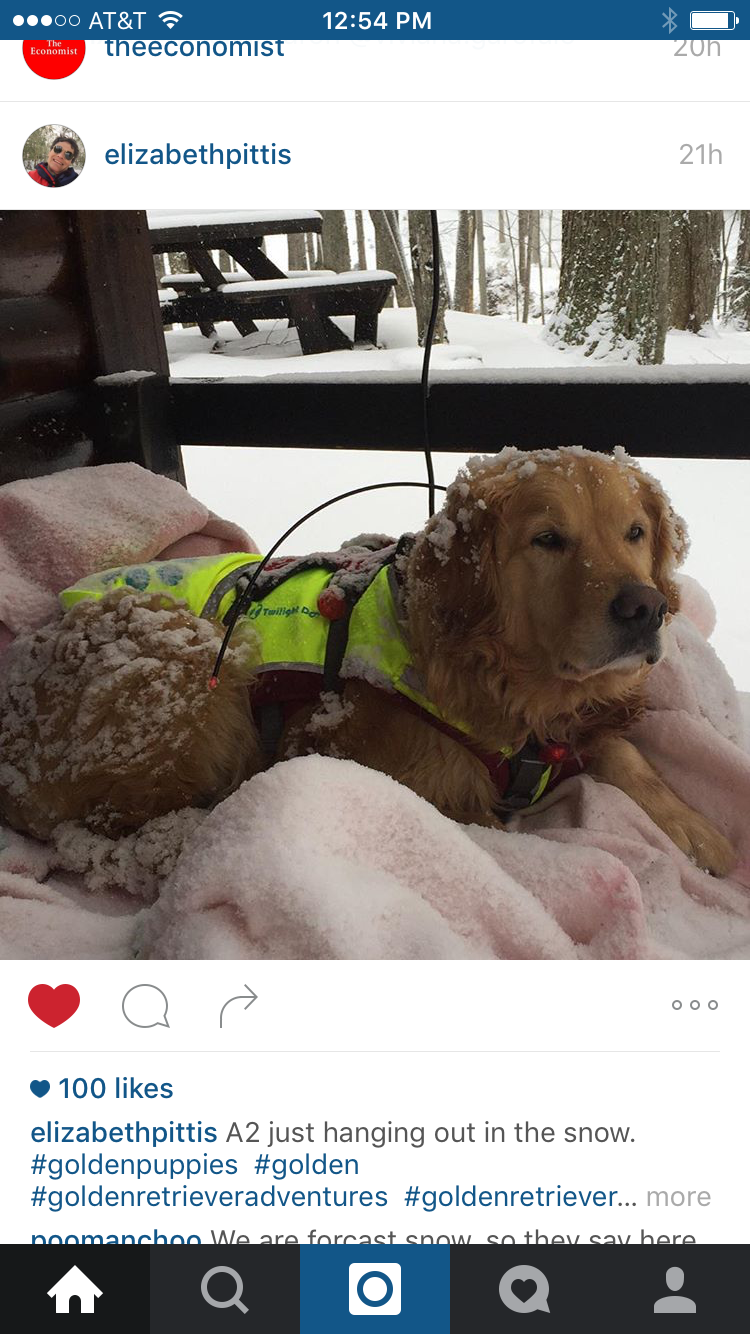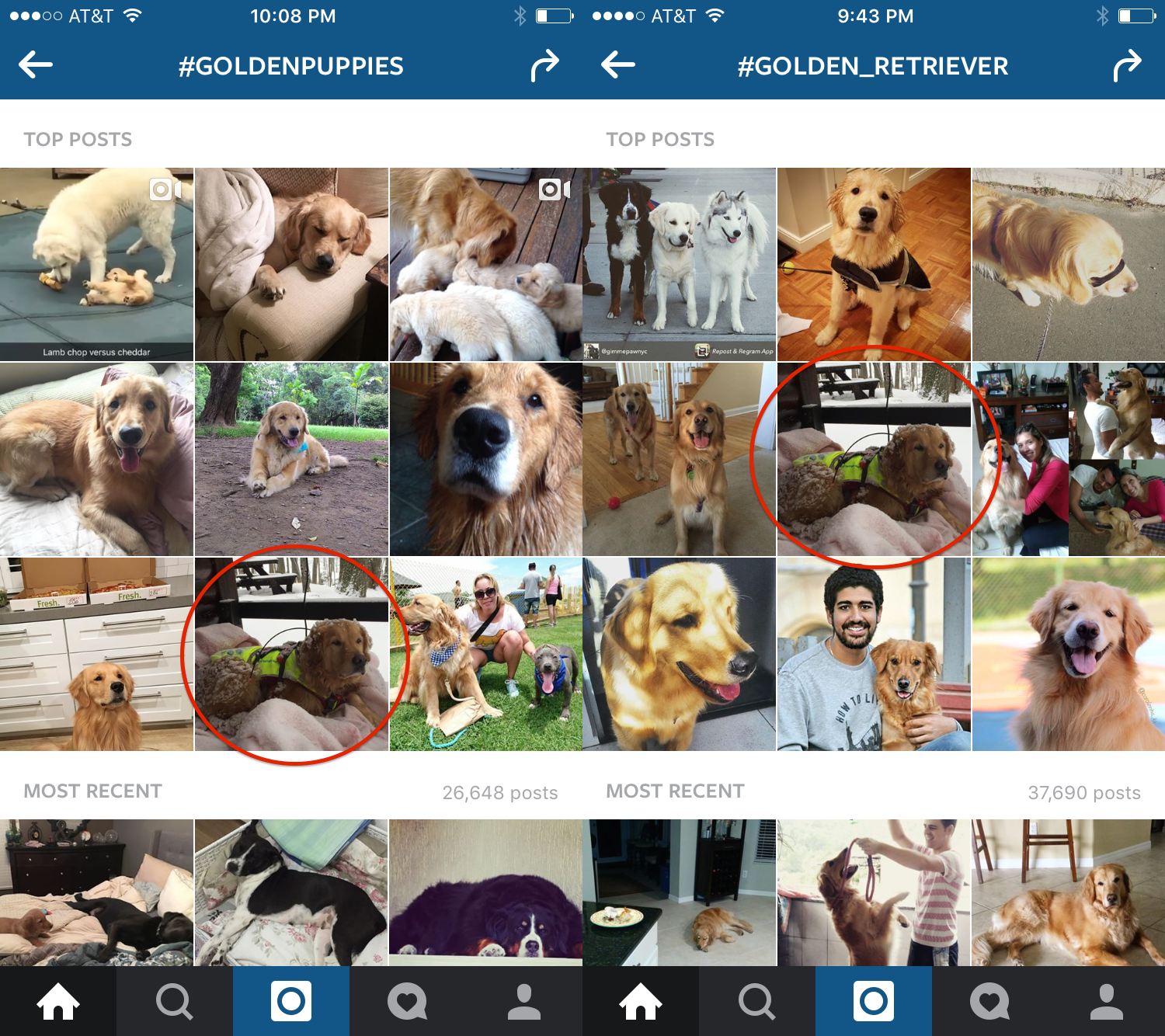 HOW WE DID IT
Step 1: Content is King
You don't have a shot in hell of replicating if you don't have good content. This is an area where people usually struggle. It's a lot of work to get quality photos. And once you have the content it can take a lot of time to draft, post and have them go live in the middle of your day.
First thing to making great content is deciding your value and voice. Without this, your content comes off as not telling a story, and rather just posting. Some good things to think about when building the voice of your content:
What makes people want to engage (like, follow, and comment) with your Instagram content?

What value are you creating for your Instagram audience?

How easy is it for you to continue to provide quality Instagram posts?
Have A Strategy

The first two are a bit obvious, but people often forget about the last item. If you go hiking and take some beautiful landscape photos, they may garner great engagement and may be a good post, but how sustainable is pumping out non-stock landscape Instagram posts?
Another common problem I see with people who come to us is ensuring the content feels on  message, but not stock imagery. Examples of this are when a company wants to post images with the brand or product incorporated. It has to look genuine, while not looking canned.
Nothing Without Great Content
In short, don't just start posting. Have a plan before you start pushing your content out on Instagram. There are great tools out there for doing these kind of things, including foap, where you can crowdsource users to create organic branded imagery. Stop interrupting the middle of your day by using a scheduling tool. There are a number out there, but I prefer to use Schedugram because it is the only schedule and forget about service.
For my mother, the content issue was taken care of. She has a wealth of exposure to a lot of places to take great photos. A2 on average walks 5 miles per day, and like all golden's he is constantly getting himself in trouble. So there is ample opportunity to take great Instagram photos.
Additionally, my mother's occupation affords her the ability to post daily without much disruption to her life, so the challenge of posting around her work is a non issue.
Step 2: Hashtag Strategy
Hashtags are integral to Instagram, but unfortunately, my mother didn't quite understand what they do. If asked, she would probably answer "they are the things Drew told me to add to the description of my posts". The truth is hashtags are very important and the ones you pick are even more important.
Building a good hashtag strategy is very important to succeeding quickly on Instagram. Your strategy should fulfill the goal of ranking in a hashtags Top Posts quickly. To understand how you can do this, you need to understand how Instagram's display algorithm works.
Unfortunately, it is not publicly known how post s are picked and they are constantly tweaking the algorithm. That said, there are some constants that are evident: 1) posts have to be relatively recent; 2) posts have to be performing above average; 3) your number of followers compared with likes is taken into account; 4) Instagram will usually only rank one post at a time in a specific hashtag (with the exception of very infrequently used hashtags). We can also assume that the engagement a post received while it is ranking in a Top Post, also contributes to how long it continues to display.
A2 Beats Paris Hilton
At the time of writing this case study, one of @elizabethpittis posts, was trending in #puppyselfie. This post was not only trending, but in the top left corner, meaning it was THE Top Post at that moment. This hashtag has over 55,000 post and the number two post was from Paris Hilton.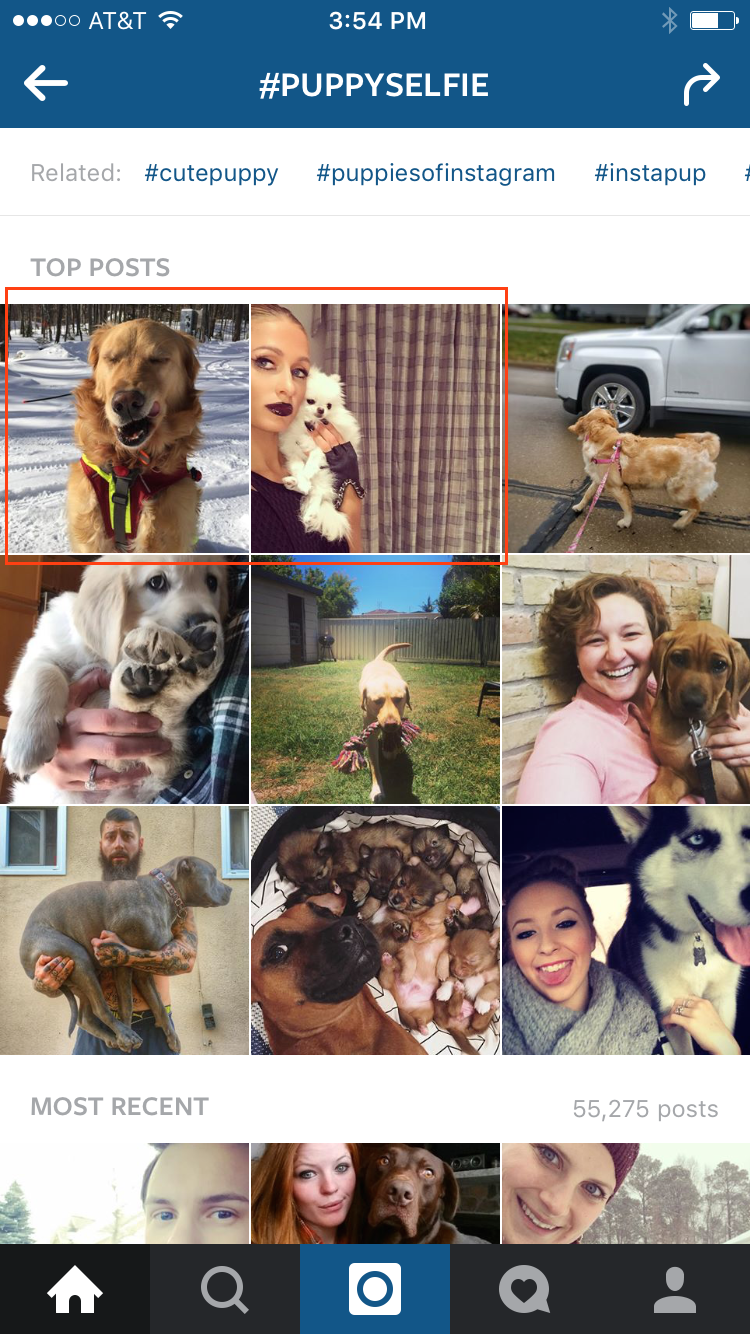 Paris' post was 12 weeks old but has seen close to 33,500 likes. Not to mention, she has over 5.4 million followers. This compared with my mother's 520 followers. Looking at these data points, we can get an understanding of how Instagram picks Top Posts.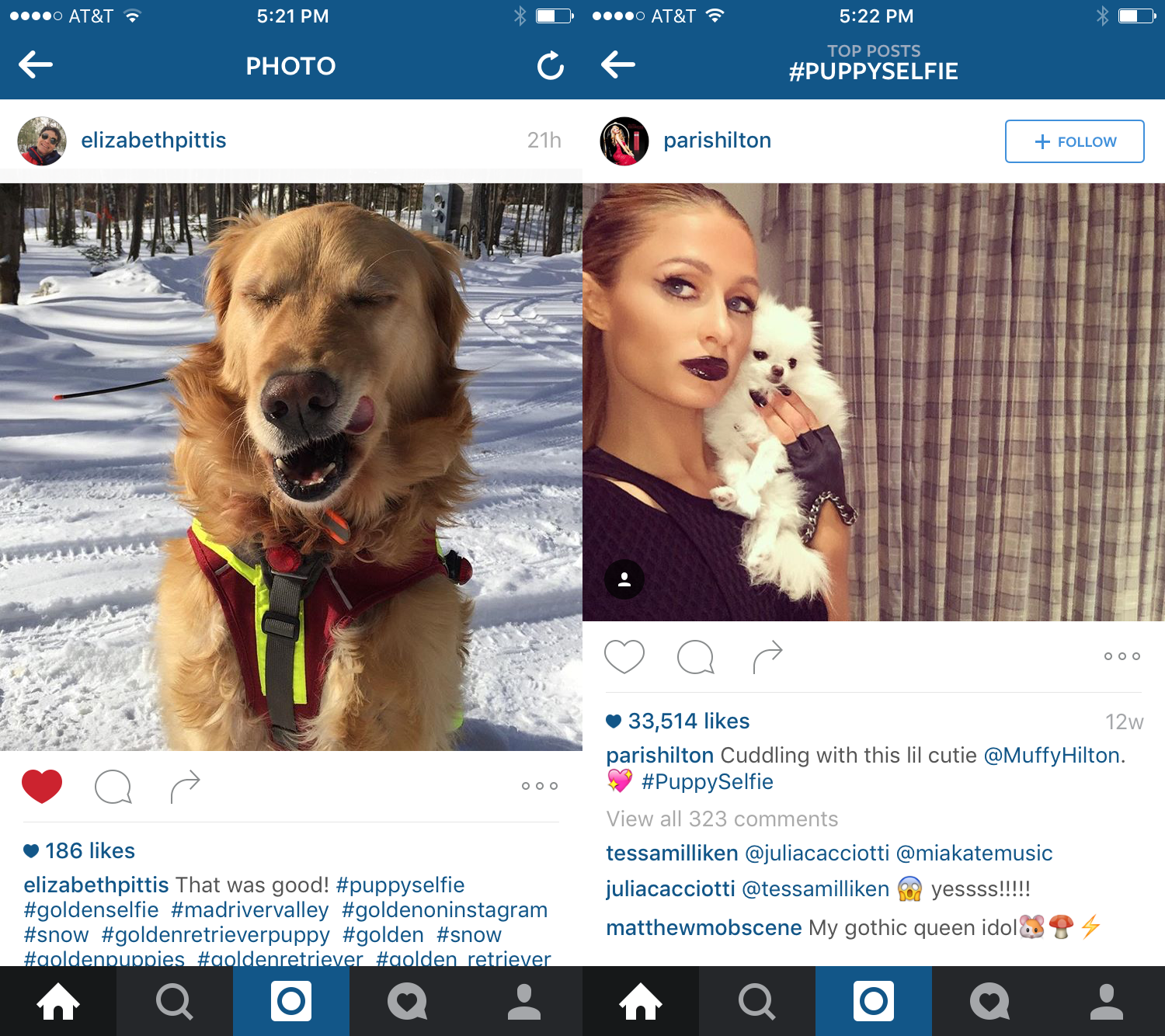 My mother's post is far more recent, but has only a fraction of the likes and comments . But when compared by a percentage of likes to followers, A2 is seeing far higher engagement. The reason Paris' post is still ranking has to do with two things: 1) it is the most recent use of #puppyselfie by her account.  And 2) her post is continuously garnishing new likes while being displayed in Top Posts 12.
Become Insta-Famous
When building a strategy for hashtags think about how you will progress. You want to have some low volume hashtags (1k – 10k posts). These let your posts quickly show up in Top Posts, allowing them to get more likes over time and more eyeballs in front of potential new followers. You want to include the high volume ones (million+ posts), so you can get in front of a lot of eyeballs (although briefly) in the most recent section. And most importantly, middle value posts (20k – 100ks posts). These middle posts are where you want your post to be displaying quickly. They are your stepping stone to gaining traction with your Instagram account that will catapult you to the high volume hashtags in six to eighteen months.
Hashtags Used A2's First Trending Post
High Volume (ranked in 0 of 5)
#golden

#goldenretriever

#dog

#winter

#dogsofinstagram
Medium Volume (ranked in 2 of 4)
#vt

#goldenpuppies

#golden_retriever

#doginstagram
Low Volume (ranked in 3 of 3)
#madrivervalley

#dogsadventure

#goldenretrieveradventures
Over time, you will want to adjust your middle volume Instagram hashtags by dropping the use of low volume hashtags and replacing them with new higher middle volume hashtags. The perfect example of this was having my mother begin using #puppyselfie in post with A2 looking at the camera. The first post ranked in top posts, and the second beat Paris Hilton.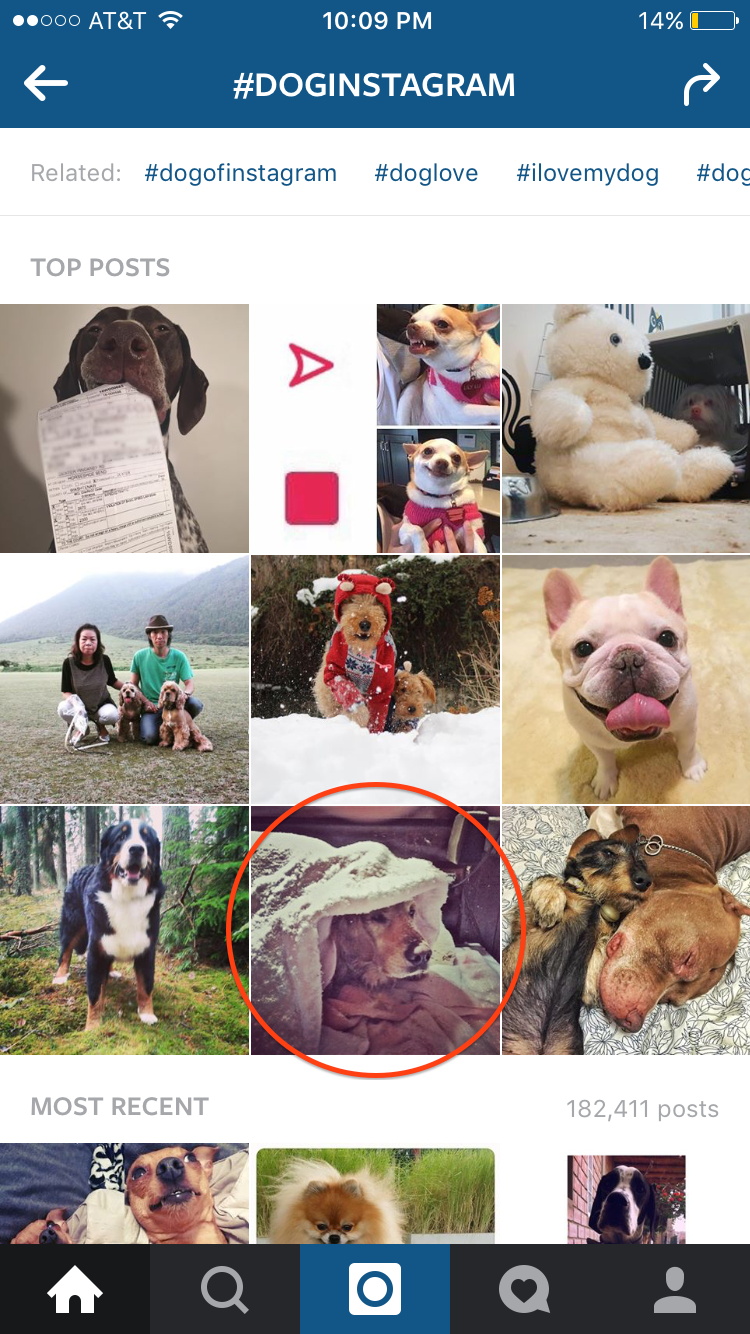 A2's first 6 figure Top Post hashtag (within 30 days).
Step 3: Engagement
The final piece to the puzzle is engagement. Without interacting with the community you will be left high and dry. You need to engage with your community base. There are three parts to engagement: following, liking, and commenting.
Following is one of the best ways to become visible to people. But before you start following everyone, think about who fits your audience. You want to follow people who have a high degree of following you back. I've outlined below some ways to identify who would have a high likelihood of following you back.
First, someone who likes similar interests. Best way to identify this is by targeting people on Instagram through hashtags. People who follow a lot of accounts are more likely to follow you back. Avoid people who are famous (celebrities) and Insta-famous.
Engaging with the Community is Key
When liking, take a similar approach to following. Target users through hashtags and relevant content. In the case of A2's account, this means going after people who have and like golden retriever related hashtags.
Lastly, let's look at commenting. This is both going out (commenting on others) and engaging/responding to those who comment on your posts. When you comment, like and follow a user you become visible to them. All of these activities take time, so I recommend you template out your outbound comments. Be relevant, but general. Using an emoji is a great way to interact, since they express agreement while being general. And who doesn't like emojis!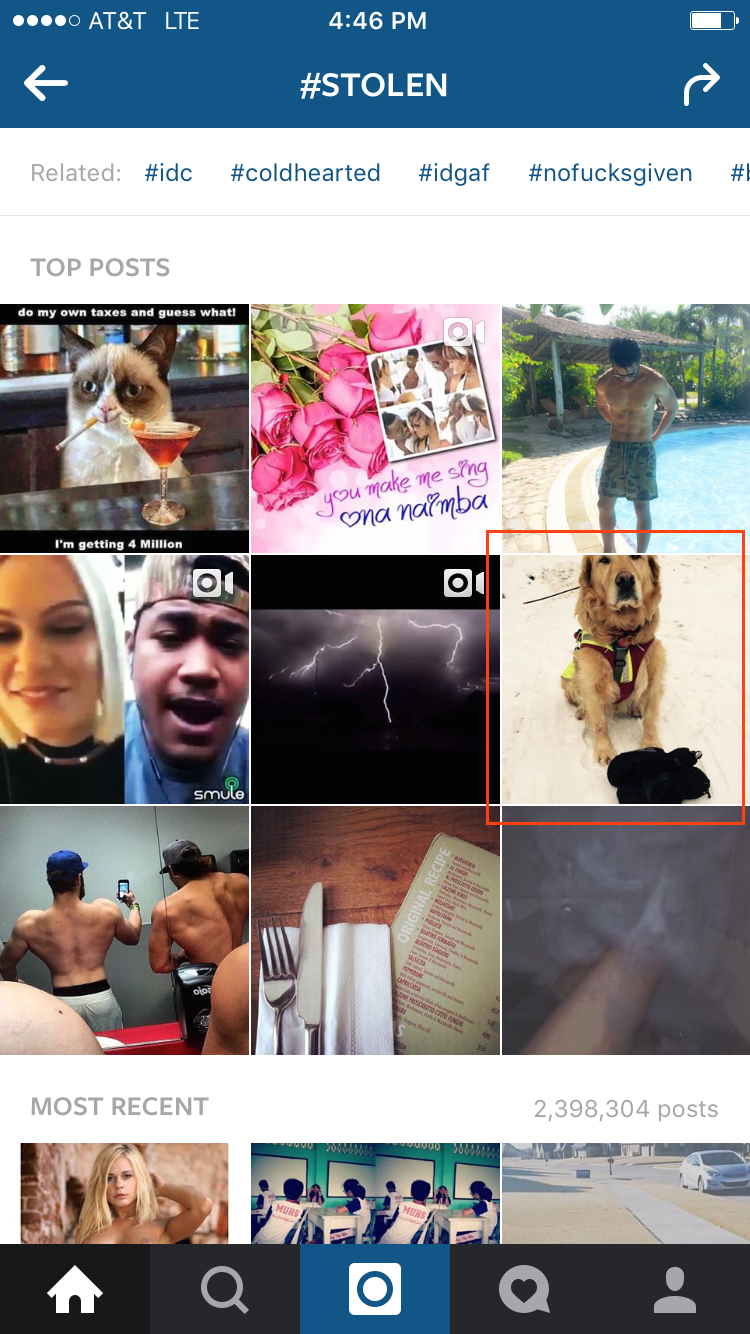 A2's first 7 figure Top Post hashtag (within 50 days).
To save time you can automate this by building a program to do this through the Instagram API. For those of us who are not coders, there are are a number of tools out there that ask in helping to unfollow accounts that do not follow you back, as well as liking and commenting. The best tool, in my opinion, for doing this is Instagress. It allows you to automate all your engagement. If you choose to do the automation route, remember to not be super aggressive and make sure to not be spammy.
In conclusion, all of these should be done in moderation so that you build quality as well as quantity. If you want help building your Instagram strategy feel free to contact us. Even if you just want to ask a question, we always love hearing from you.