"NeedGrowth has been excellent in helping us maximize and optimize our SEO and content structure. Their insights into digital marketing has improved how we track organic KPIs and analyze reader behavior. Overall, it's been a fantastic experience and we highly recommend making them your digital team."
                                                                                                          Pavel Konoplenko, CEO
                                                                                                          SpoiledNYC.com
Before working with Spoiled NYC, we already knew that they were an extremely large blog in the New York area. What we didn't know, was just how big they really were.
With monthly visits of 1.5MM visitors, mostly from social media, Spoiled NYC is a massive beast that is driving and handling immense amounts of traffic every day. They had focused on social media to fuel their growth, somewhere along the way, forgetting about SEO. Spoiled NYC had begun to feel that they needed to refocus on organic traffic growth. This is where the Need Growth team came in with our SEO, engagement and content strategy.
They had a large number of objectives: increase user time on the site, identify their ranking bottlenecks, identify the most effective / performing content, improve organic SEO, create ongoing SEO & content guidelines, turn visitors into subscribers, segment visitors and better understand their motivation, and acquire mailing list leads to make the site into a converting machine, all while increasing their organic traffic and overall search presence.
>Discover your Digital Marketing Strategy<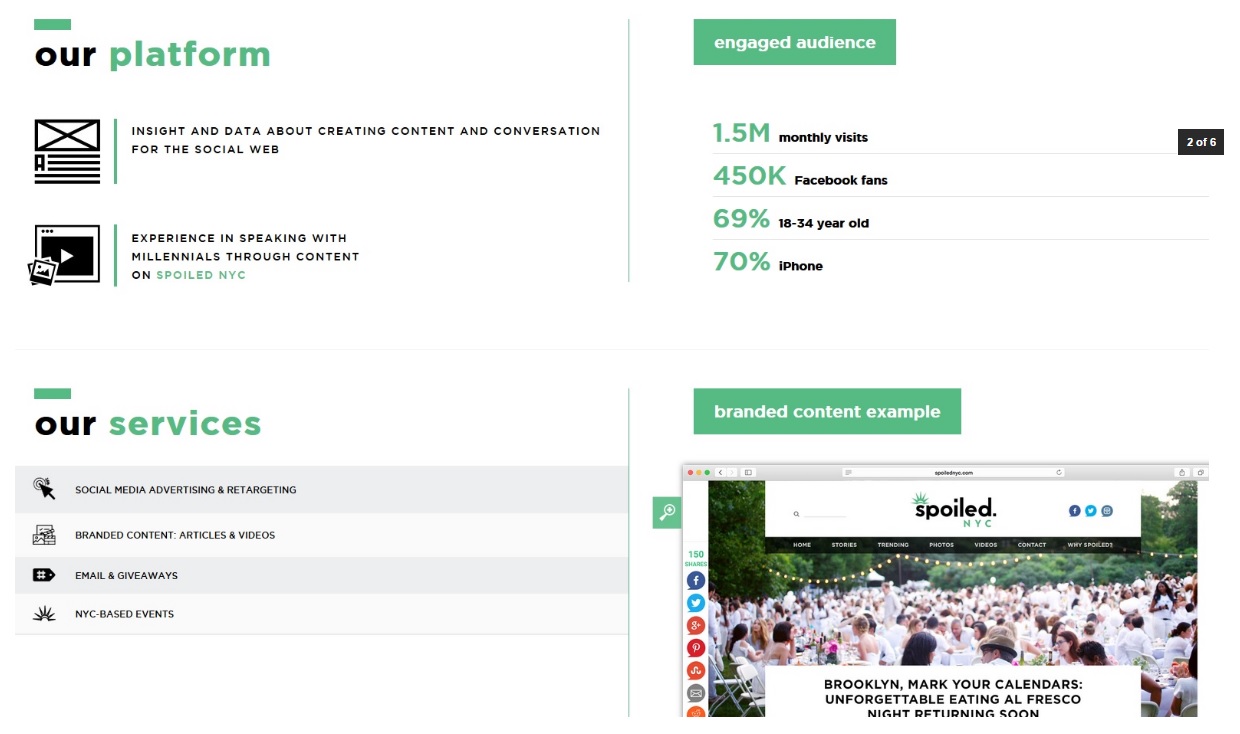 We knew that we had a large task at hand, since when it comes to this traffic size, even small changes can have a quick effect. Keeping this in mind, we started to integrate changes incrementally.
One of the key tools we use is Ahrefs SEO tools. Among them: keyword density, daily seo updates, overall site ranking and movement for specific term standings. This allows us, as an agency, to give our clients a full understanding about what is happening with their seo, how it is improving and what should be the next focus for them. These clear signals and indications for both them and us, allow us to really deliver the precise and effective service we are known for.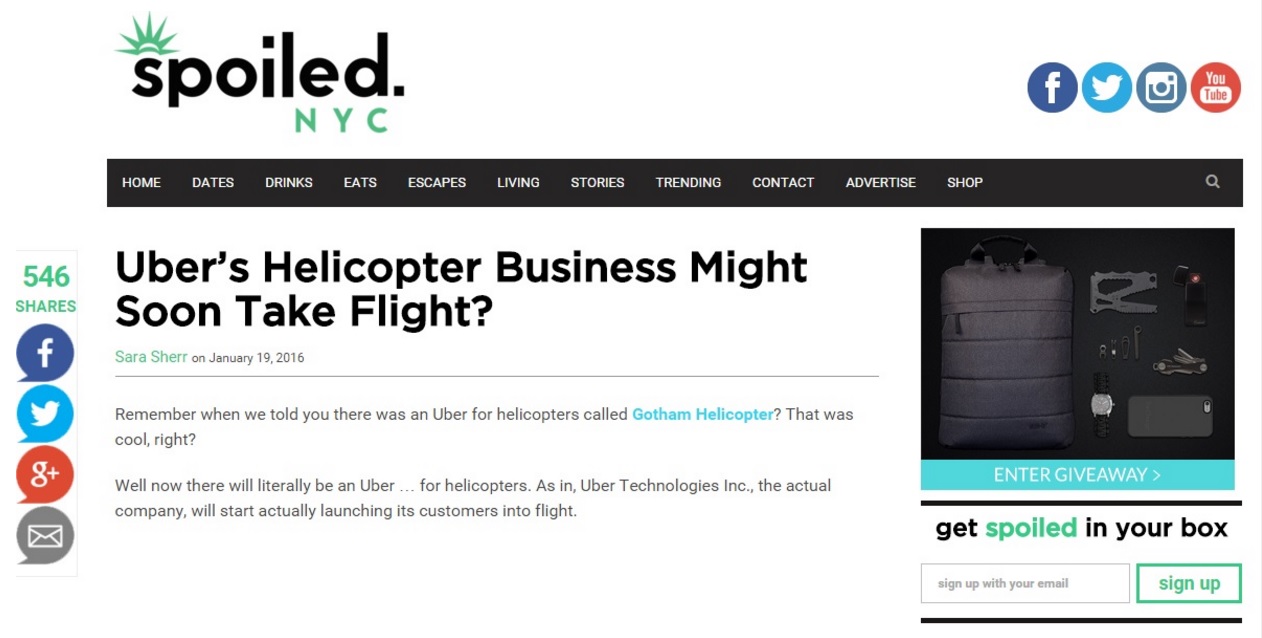 We began by conducting landing page tests, locating traffic bucket holes, along with other immediate elements, before progressing to larger changes such as modifying upcoming article structure of urls, find better targeted – but often hidden – content niches, create specific guidelines and formulas for content writing (emotional, underlying meaning, article target audience and content direction), and a number of other alterations that had a large effect on both SEO, user engagement and conversion to sales and leads.
Before We Began: Spoiled NYC Ranking

We toiled, fined tuned and suggested more changes, capturing more leads, keeping visitors on the pages longer, finding the best placement and timing for subscription engagement, adjusting fonts and seo ranking.
Spoilednyc after we implemented key modifications:
Ranking As of Feb 2017: Improved By 1370%

Here is one of the adjustments: the loading speed of the site has a direct correlation to its google ranking. The longer it takes to load, the harder it will be for the site page to rank. In the case of Spoiled, they had a lot of backend clutter that was slowing down the site. Once we identified the source of the slow down, it was fixed. These among dozens of other adjustments to content and strategy, had a direct effect on organic traffic.
Spoiled NYC's organic traffic has steadily increased since. Site engagement has shot up, conversions to KPIs have been transformed and the average user engagement has increased by over 40% for organic searches.
>Learn more about Digital Strategy Here<
Here is a look at the first few months of SEO and Content work, and what effect the adjustments had on content.
Within a few months of working with Spoiled, their pagerank* had improved by over 540%, from 8.9 million to 1.6 million over a 5 month period, and a year later it has reached 652k resulting in 1370% improvement.

How We Did It:
I wish we could say that we had some magic way to let Spoiled NYC just rise overnight, but the reality is much more realistic, involving a lot of work and know how: research of different industries, url layout of the site, subscription popup placement and integration strategy, user UX engagement, out-linking formulas and content writing focus and guidelines.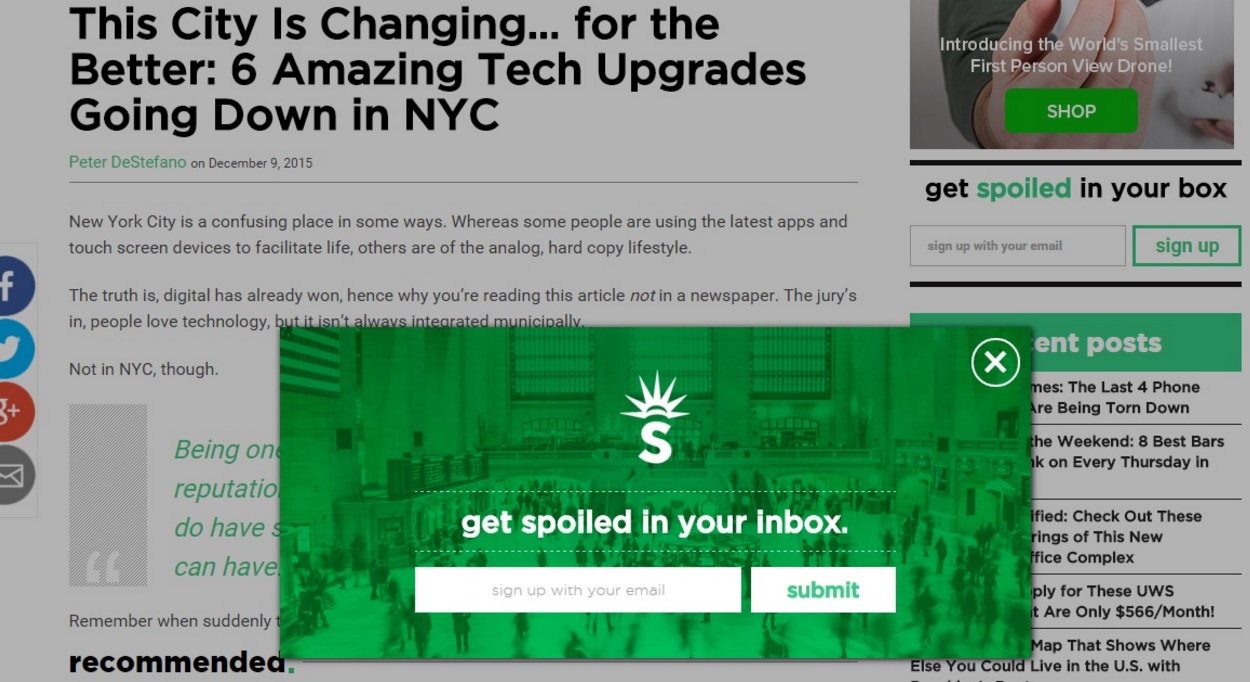 The big traffic driving element was the site's content and specifically, how it was written.
Content planning starts way before the first word is actually written. Normally we spend significant planning for posts based on searches, keywords, volume of traffic, and target category. Spoiled NYC had a lot of content, sometimes it was very good and sometimes it could've been much better, in nut shell, it was inconsistent. One of our core objectives was to create guidelines and processes that could help them create great content consistently, every time.
Engaging articles have to be relevant and marketed towards the right demographic while still being SEO targeted. Boring content ranks lower and gets less clicks from your potential visitors.
That's why we spend significant time on getting content messages and key elements right with our clients, before anything is rolled out. There are various strategies to get content out and executed well, so you truly see what a powerful marketing tool SEO content is.
SEO can be likened to a sail boat. If the sail is furled and packed, you will lose out on the wind (traffic from search engines). Just as on the water the boat moves much slower than it should without the sail, your site will be moving up in search rankings much slower, if at all, than you would like. What's worse, if you don't plan out your seo content strategy, your ranking might sink. By unfurling the sail of content, words and overall site work you are able to catch the search engine flow much better, allowing your site to dominate your niche, benefiting in visitors, sales and your online brand.
Curious how you can improve your content, SEO, sales and engagement?