Let us build the channels and acquisition strategies for fast growth.
Growth is an undefined concept, and there is no single strategy that can fuel every company. We leverage data to define growth opportunities and make decisions instead of relying on outdated marketing concepts.

Digital Marketing
Some people call us growth hackers; we think that's pretty cool. But at the end of the day, we are just really smart and technical digital marketers. We take a serious data driven approach to building your marketing program.

Marketing Automation
Tailored and personalized messages increase customer satisfaction and lifetime value. Our cross channel, cross device marketing automation services will ensure your customers have an optimal experience.

A/B Testing
No one gets it right the first time. By having an A/B testing framework, we can create an experience that leads to more purchases. Our testing framework will double your conversion rates.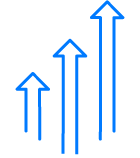 Conversion Rate Optimization
Leverage qualitative and quantitative data to increase the number of visitors that convert into customers. We study user data from surveys, heatmaps, and people analytics to create and execute an optimization strategy.